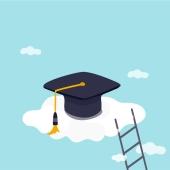 College Cost Data Released for 2023-2024
Every year, the College Board releases new college cost data and trends in its annual report. The figures published are average cost figures based on a survey of approximately 4,000 colleges across the country.
Over the past 20 years, the average price for tuition, fees, and room and board has increased 38% at public colleges and 29% at private colleges over and above increases in the Consumer Price Index, straining the budgets of many families and leading to widespread student debt.
Here are cost highlights for the 2023–2024 year.
Public four-year: in-state
Tuition and fees increased 2.5% to $11,260
Housing and food (formerly room and board) increased 3.7% to $12,770
Total cost of attendance*: $28,840
Public four-year: out-of-state
Tuition and fees increased 3.0% to $29,150
Housing and food increased 3.7% to $12,770 (same as in-state)
Total cost of attendance*: $46,730
Private four-year
Tuition and fees increased 4.0% to $41,540
Housing and food increased 4.4% to $14,650
Total cost of attendance*: $60,420
*Total cost of attendance includes direct billed costs for tuition, fees, housing, and food, plus indirect costs for books, transportation, and personal expenses. Many private colleges are at or approaching $80,000 per year in total costs.
Sticker price vs. net price
The College Board's cost figures are based on published college sticker prices. But many families don't pay the full sticker price. A net price calculator, available on every college website, can help families see beyond a college's sticker price. It can be a very useful tool for students who are currently researching and/or applying to colleges.
A net price calculator provides an estimate of how much grant aid a student might be eligible for at a particular college based on the student's financial information and academic record, giving families an estimate of what their out-of-pocket cost — or net price — will be. The results aren't a guarantee of grant aid, but they are meant to give as accurate a picture as possible.
Student loan payments resumed in October
Student loan payments resumed in October 2023 for millions of federal student loan borrowers after almost three-and-a-half years of payment pauses. In connection with the restart of payments, the Department of Education launched a new income-driven repayment (IDR) plan called Saving on a Valuable Education, or SAVE. The SAVE Plan, the most generous to date, includes multiple new benefits for borrowers, some of which take effect now and others that are scheduled to take effect in July 2024 when the plan is fully implemented, including monthly payments that are capped at 5% of discretionary income for undergraduate loans and at 10% of discretionary income for graduate loans.
Federal student loan interest rates for the 2023–2024 school year are the highest they've been in years: 5.50% for undergraduate Direct Loans, 7.05% for graduate Direct Loans, and 8.05% for graduate and parent Direct PLUS Loans.
2024–2025 FAFSA delayed until December
Typically, the Free Application for Federal Student Aid, commonly known as the FAFSA, opens on October 1 for the upcoming school year. This year, however, the 2024–2025 FAFSA has been delayed until December due to the most significant overhaul in decades.
The new, much shorter FAFSA contains a number of changes, including:
A new "student aid index" (SAI) will replace the current "expected family contribution" (EFC) terminology in an effort to frame the resulting figure as a yardstick measuring a student's financial aid eligibility, rather than what a family will pay.
For parents with multiple children in college at the same time, the new FAFSA will no longer provide an advantage in the form of a reduced parent contribution. This change has the potential to significantly decrease aid eligibility for middle- and high-income students who have one or more siblings in college.
Cash support and other money paid on a student's behalf, for example a gift of money from a relative or a distribution from a grandparent-owned 529 plan, will no longer need to be reported on the FAFSA.
Remember that the 2024–2025 FAFSA will rely on income information from two years prior on your 2022 federal tax return (referred to as the "base year" or the "prior-prior year") but will use current asset information as of the date you submit the form.
Sources: College Board, Trends in College Pricing and Student Aid 2023; U.S. Department of Education, 2023
Advisory Services offered through Tradition Wealth Management, LLC, a Registered Investment Advisor. Securities offered through Concourse Financial Group Securities, a Registered Broker/Dealer and Member of FINRA/SIPC. Tradition Wealth Management, LLC, is independent of Concourse Financial Group Securities, Inc. TWM and its representatives are in compliance with the current registration requirements imposed upon registered investment advisers by the SEC and those states in which TWM maintains clients. TWM may only transact business in those states in which it is notice filed, or qualifies for an exemption or exclusion from notice filing requirements. TWM is neither an attorney nor an accountant, and no portion of the web site content should be interpreted as legal, accounting or tax advice.